Tim Giesbrecht, P.Eng, MBA
Aerofoil Consulting Inc.
May 20, 2021
Introduction
Anyone who has written a Minimum Equipment List (MEL) manual knows that it is a time-consuming process. Firstly, the technical writer must copy and paste content from a variety of source manuals into a special table format, and then make multiple customizations based on local regulations and the operator's unique operating environment. Added to that is the time spent in obtaining approval by the aviation authority through several rounds of submissions. Because of the inherent customization required in MELs and the lack of consistency between aviation authorities, there is presently no standardized method for writing MELs from start to finish. A 2020 study on the international practices of MEL development states it rather succinctly, "although several parties and professionals are involved in the development and review of the MMEL, the MEL still lacks a… standardised process." [1] Since writing MEL manuals is part of our core business at Aerofoil, we decided to tackle this problem head-on to create an efficient and predictable MEL development process.
Through a series of development iterations Aerofoil now produces MELs that are genuinely useful to the end-user; created with minimal errors and rework, and resulting in quicker approvals from aviation authorities. Naturally, this has provided benefits to our clients and gained trust within the industry. This paper will examine the principles that led to our standardized MEL development process. But first, a quick background to MELs.
Background to MELs
Quite simply, a MEL is a manual used by pilots or other personnel to determine if inoperative equipment or instruments allow an aircraft to be dispatched despite the airworthiness requirement to retain the equipment in good working order. Another explanation is offered by Hertzler, who suggested that the MEL could be renamed as "permissibly inoperative instruments and equipment or stuff that doesn't have to work". [2] So, how are these manuals made and why are they used?
To create the MEL, the technical writer typically combines the content from an approved Master MEL with the matching content of a manufacturer's procedures manual, and then adds customization to account for differences in aircraft equipment and the operator's unique operating environment.
A MEL has various purposes. Grueninger and Norgren have identified two purposes. The first is to identify systems and components that may be inoperative while keeping the aircraft airworthy, and the second is to be a reference document for pilots and aircraft maintenance engineers to conduct MEL-specified procedures before the aircraft may be dispatched. [3] What are the major challenges in the MEL development process?
A standardized MEL writing process.
By necessity, the process of creating MELs begins with copying information from source documents: the current revisions of the MMEL, Transport Canada Supplement, and Dispatch Deviation Guide. The technical writer must include the applicable required content based on the aircraft equipment which is determined by the aircraft model type, the serial number, or specific modifications. Also, some of the MMEL content requires the interpretation and application of local regulations which involves the input of a subject matter expert. Without a standardized process checklist to stay on track there is a strong potential for error. The MEL writing process must be organized to ensure the content is correctly placed and flows in a logical order so that the manual is easy to use.
This is no small task. The writing style and page format affects how easy or difficult the document is to use and approve, and typically, systematic errors are only revealed at the end of the process when the document is ready for approval. Traditionally, this process leads to multiple rounds of review and rework. We wanted to curb this cycle and set up a standardized process to get it right the first time.
To begin, we adapted five well-known Lean Manufacturing principles to our MEL development: focussing on the customer's needs, applying built-in error proofing, using standard operating procedures, eliminating non-value-added rework, and replacing batch work with single piece flow. These are all very simple principles which do not require complex implementation. The result of applying these principles is a standard operating procedure for developing and reviewing MELs and a database of reused content for future MELs. The list below details the five core strategies we used to create our standardized MEL development process.
1. Develop a standard operating procedure checklist.
One the most powerful tools for creating a consistent and efficient process is developing and sticking to a standard operating procedure (SOP). SOPs have long been established in aviation, so why not use them in office processes?
Use the following steps to create a standard operating procedure for a MEL:
Begin by methodically reading through the aviation authority's MEL policy documents. For the Canadian operator it will be the MMEL/MEL Policy and Procedures Manual, TP-9155.
As you read through the policy documents, list off all the items that are required to be in the MEL manual.
Add in any other must-have items you think you will need.
Organize the checklist into a logical sequence and identify which items are the responsibility of the writer, the checker, and the approver.
Use the draft checklist to write the first manual. Keep adding items to the checklist as you write, because you will notice patterns where mistakes happen repeatedly, and these must be addressed by the checklist.
For the next manual you write, have someone else use your checklist to write the manual. If they cannot follow it, then it needs further refinement.
Keep improving the checklist for every manual.
Figure 1 is a sample SOP for front matter content to record the task description, policy manual reference, and task updates by the writer, checker, and final approver. The SOP acts as a checklist that can be used to keep track of progress. Extra columns can be added to track errors and corrections. Additional checklists can be made for each ATA chapter heading, as shown by the sample checklist in Figure 2, ATA 21-Air Conditioning.
The checklist is the heart of creating a standardized process. But it is also a living document that needs continuous improvement. A reliable checklist means the writer does not have to rely on their own memory to meet the requirements for the manual. They can be confident that they are not making systematic errors that will result in rework later on.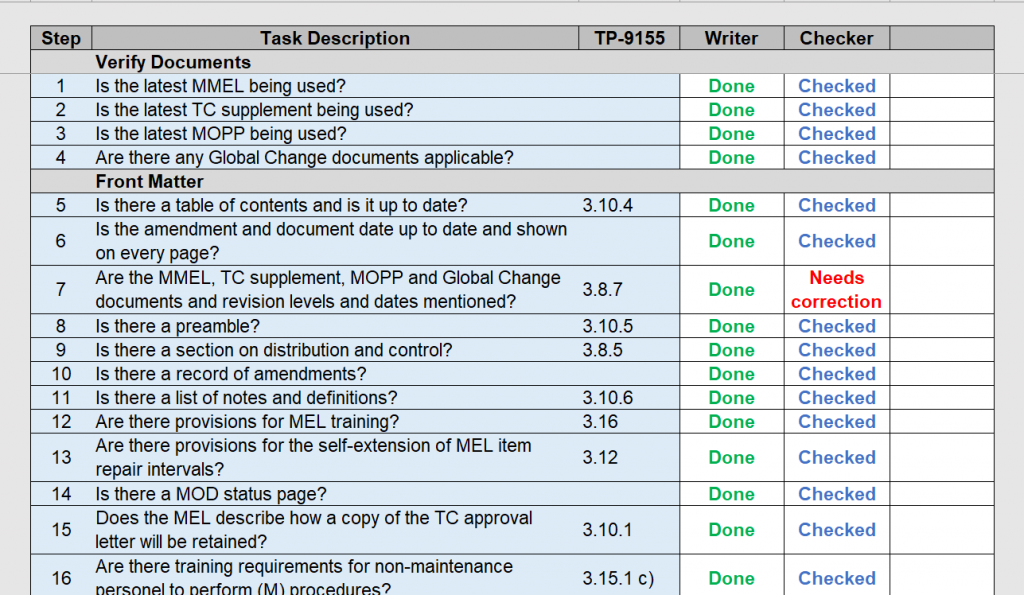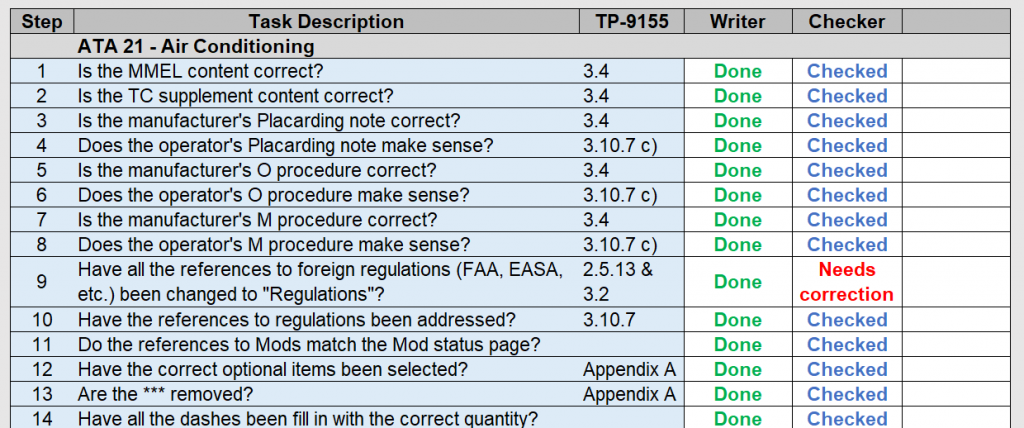 2. Use the regulatory note method to address the "required by regulations" items.
The current MEL guidance does not establish a method of how to address the "required by regulation" statements in the MMEL. For the most part it is left to the technical writer to come up with a style that works for the operator. If this is poorly done, it will be very difficult to convey meaningful information to the end user, and the reviewer will likely reject the manual.
One approach to address the "required by regulation" is to add a reference to the applicable regulation number (e.g.: "CAR 604.53") or to simply copy and paste in a block of text directly from the regulations. This is not always helpful to the end user because it is lacking a clear interpretation of the regulatory requirement for that item. A proper regulatory note requires a comprehensive review of any applicable regulations, and the technical writer needs to summarize them in a way that provides a clear and distinctive synopsis to the end user. Doing so will also demonstrate competency to the reviewer approving the manual.
The technical writer should establish a library of pre-approved regulatory notes which have been reviewed by a subject matter expert to provide clear instructions. The regulatory note should be clearly identified from other notes and be linked to the source regulation. See the example in Figure 3, where the regulatory note is kept separate from the remarks. The content from the MMEL is not modified, the note is a clear synopsis of the regulation, and the reference points to the source regulation.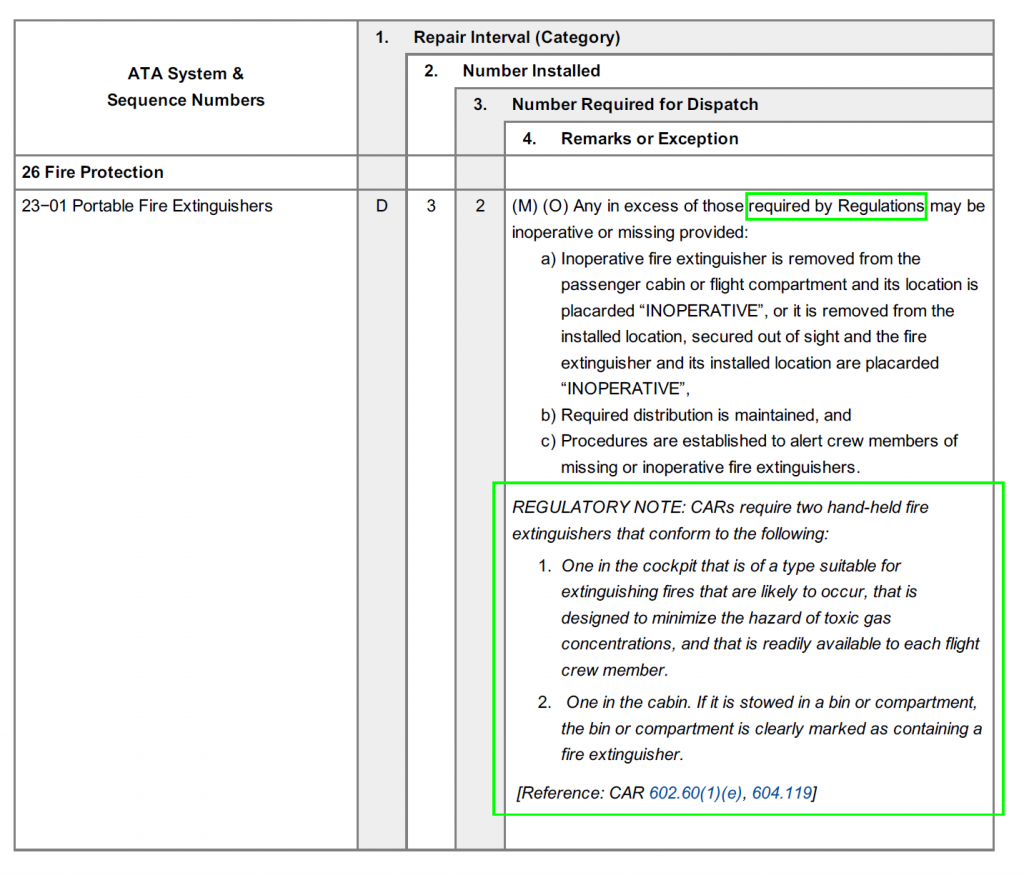 3. Identify aircraft differences and modifications clearly.
Adding a modification status page to the MEL will make it very simple for the reviewer to verify the accuracy of the MEL and will make revisions much easier to release. This page tracks all the modifications and differences on the operator's aircraft that affect the deferral provisions in the MEL (see Figure 4 below).
If the operator has a fleet of aircraft with different modifications applied to them, then a note should be added to indicate the aircraft applicability, as shown in Figure 5. Having a consistent system to identify these differences will not just speed up the approval process but reduce errors and give visibility that the manual might need revision when aircraft are modified in the future or new aircraft are brought on board.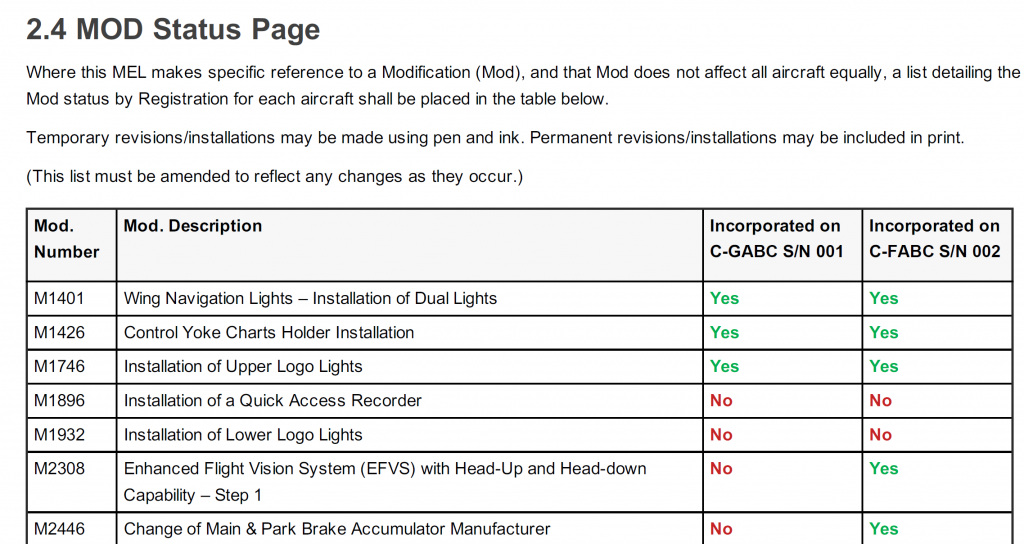 4. Add document labels and navigation tools.
Because an MEL is created by combining information from various source manuals, it is important to maintain links between sections of connected content to make it easy to find relevant information.
Confusion can happen when the MEL remarks call for operational (O) and maintenance (M) procedures, but there is no consistent method of linking the procedure to the applicable MEL item or sub-item. Simply create unique identifying labels to link the MEL remark to the procedures (see Figure 6). Sometimes the manufacturer's M and O procedures manual already uses unique identifying labels for the procedures, and then those can be repurposed. This will not just help the end user but will reduce errors by the technical writer and speed up the review process.
Document navigation tools like buttons can help the end user navigate between the table of contents and MEL items and search for items in the document. Figure 6 shows examples of home, menu, back, and forward buttons. Adding links to references of other MEL items and using a software generated table of contents will help the end user and approver search and find items. Links can also be added to external content from a website, such as regulatory information. This helps to verify that the correct regulation was applied.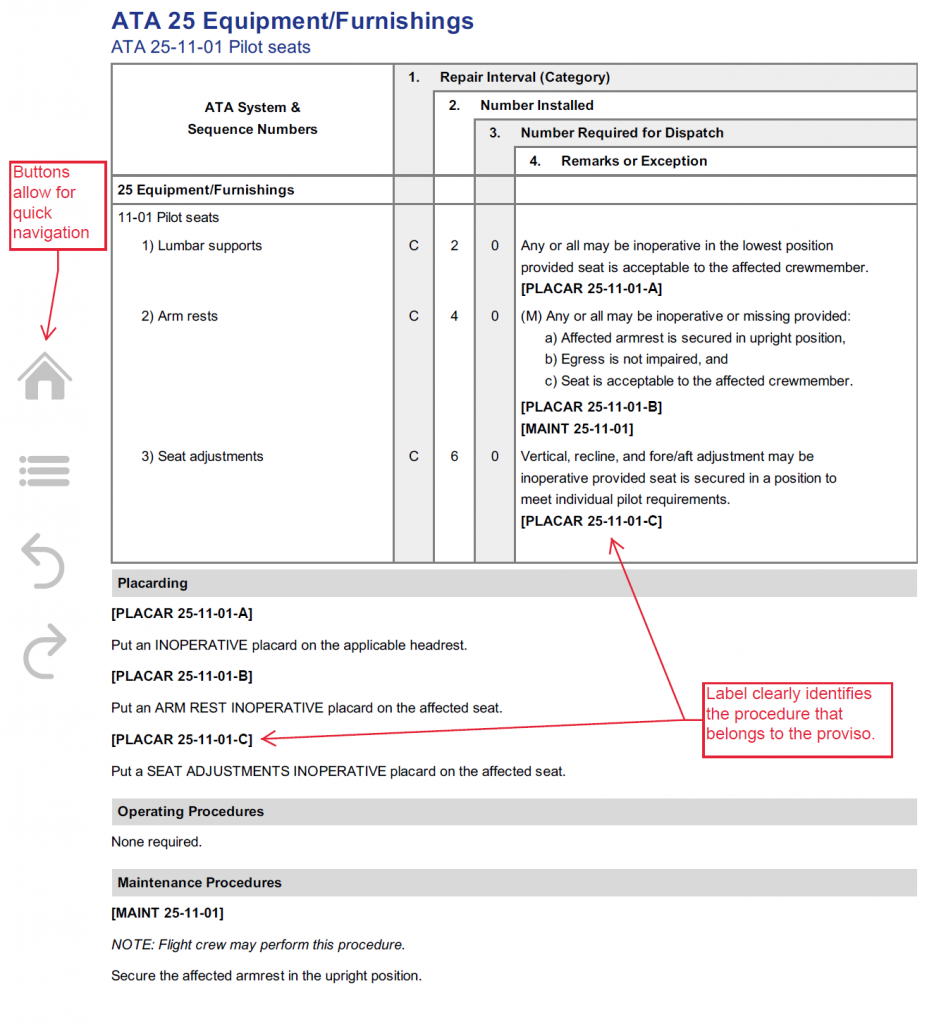 5. Make full use of word processor automation.
Interestingly, the greatest potential for errors and rework is in areas that can be replaced by automation. Creating a list of effective pages (LEP), creating manually entered section-based page numbers and tables of contents is difficult and tedious at best, and a source of errors and frustration at worst. Switching to full document revisions allows for the elimination of the LEP and section-based page numbers and replaces it with an automated table of contents and page numbers. Some document writing software will even keep track of changes, add change bars, and create an automated change summary table.
Conclusion
At Aerofoil we have been using these five core strategies to produce MELs that are genuinely useful to the end user, because they are produced in a consistent and standardized manner. As a result of this process, it is also possible to achieve predictable outcomes in the review and approval stage. Once a process has been established, it is imperative to not deviate from the established process, and to keep making improvements with each iteration.
Developing and maintaining an MEL does not have to be difficult and can be achieved by applying time-tested simple Lean principles. The resulting MEL will provide value for the end users, reduce administration overhead, and become an integral part of an air operator's safety management system.
Written by Tim Giesbrecht, P.Eng, MBA, Office Manager at Aerofoil Consulting. Aerofoil offers complete MEL services for private operators in Canada, including the Transport Canada approval. The MELs are done by Ed Ratzlaff, president of Aerofoil and TC Minister's Delegate for private operator MEL approvals.
References:
Karanikas, N.; Kourousis, K.; Obadimu, S; Development of the Minimum Equipment List: Current Practice and the Need for Standardisation, p1, MDPI, 2020, Basel, Switzerland.
Hertzler, J. Operating an Aircraft: With Inoperative Instruments or Equipment. Available online: https://www.aviationpros.com/home/article/10387201/operating-an-aircraft-with-inoperative-instruments-or-equipment.
Grüninger, M.R.; Norgren, C. MEL—A risk management tool. Bart Int. 2013, 146, 68–69.